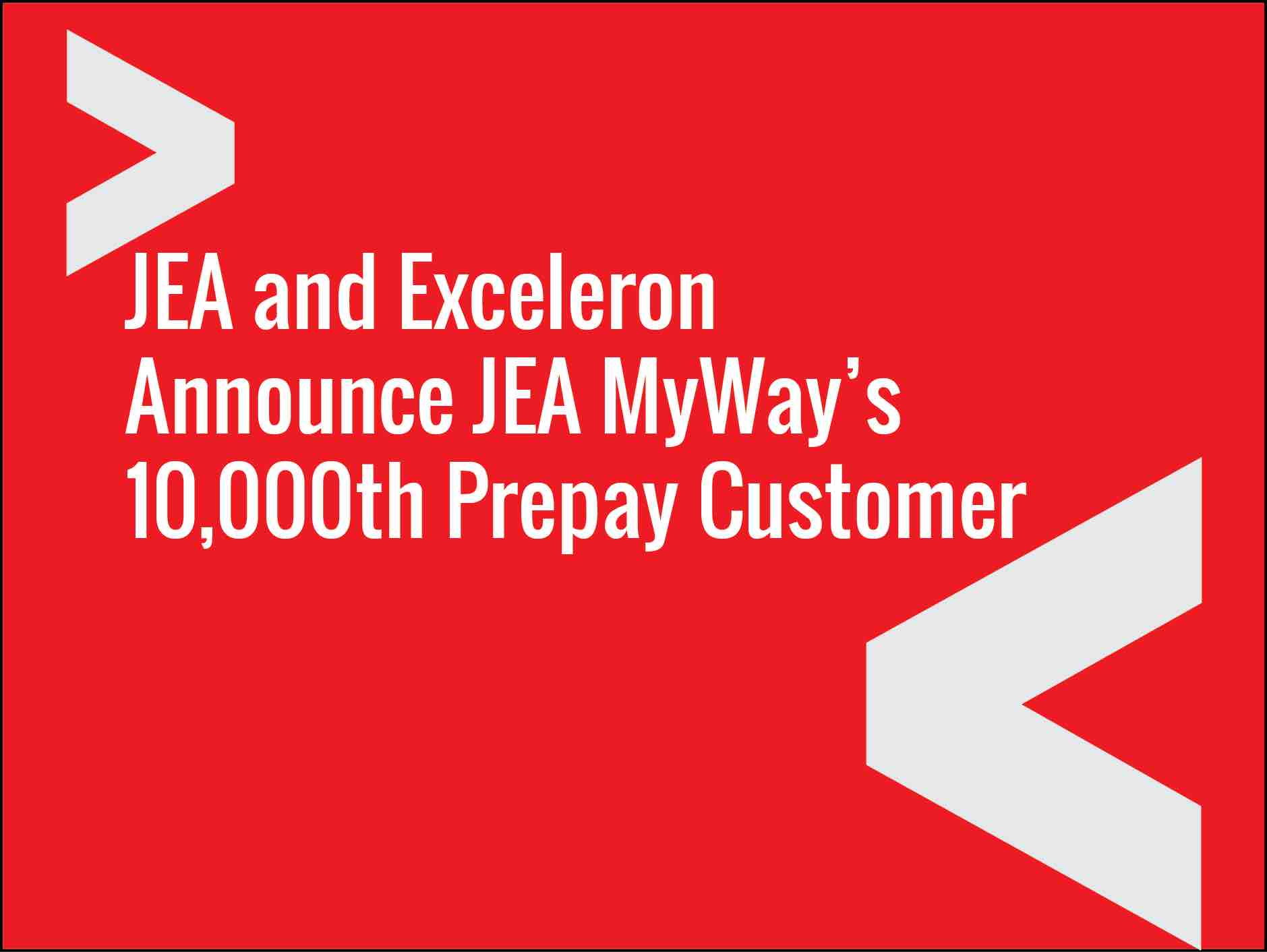 JEA and Exceleron Announce JEA MyWay's 10,000th Prepay Customer
Program Achieves Rapid Growth with Exceleron's MyUsage
Dallas, Texas – JEA, the eighth-largest US municipal electric utility, and Exceleron Software, the leading provider of prepayment software for North American utilities, today announced that more than 10,000 customers are participating in the JEA MyWay prepayment program. The announcement comes just three years after JEA selected Exceleron's MyUsage prepayment solution.
"Welcoming our 10,000th customer into JEA MyWay is a significant milestone that we are keen to celebrate with Exceleron," said Brian Pippin, Manager of Customer Solutions at JEA. "We knew that JEA MyWay would offer tremendous benefits and empower customers, but the speed with which they have embraced the program has far exceeded our expectations." Program participation has increased by more than 40%, on average, each month.
Customers who opt into JEA MyWay pay in advance for utility services, thereby avoiding deposits and electric disconnect/reconnect fees. They also receive access to daily consumption information and tools that help them make smaller, more frequent payments that fit their budget and lifestyle.
"The program's popularity is a testament to JEA's excellence in customer service and Exceleron's experience providing a seamless solution for utilities operating in multiservice environments," said Jeff Severs, COO of Exceleron.
Pippin noted that JEA's residential customer satisfaction index increased from 640 in 2013 to 692 in 2015 as measured by J.D. Power. "We've seen how MyWay leads to greater customer satisfaction and better service," said Pippin. "Prepayment helps customers better manage their finances and understand how their behavior impacts consumption and energy bills."
About JEA
JEA is the eighth-largest community-owned electric utility in the United States and one of the largest water and sewer utilities in the nation. Located in Jacksonville, Florida, JEA serves an estimated 447,000 electric, 329,000 water, and 254,000 sewer customers. For more information, visit www.jea.com.
About Exceleron Software
Exceleron Software is the preeminent provider of prepayment and financial technology solutions for North American utilities, having served more than 100 utility customers and 500,000 prepay consumers. Electric, water, and gas utilities are using Exceleron's MyUsage solution to recover more than $20 million in bad debt and process more than $500 million in payments while helping consumers practice energy conservation and avoid nearly $1 billion in service connection and late fees. Consumers have more access to detailed consumption information and greater control over the amount, frequency, and method of payments. This increases customer choice, improves customer satisfaction, and significantly lowers financial risk for utilities. For more information about MyUsage, visit www.exceleron.com.
JEA
Gerri Boyce
Media Relations
904-665-5500
[email protected]
Exceleron Software
Bob Finley
Director of Sales
972-852-2711
[email protected]
###